(08.01.10) ESS Crossbow Evaluation

We have published the initial review of the Crossbow safety glasses from Eye Safety Systems. They are a collaborative effort between ESS and their parent company Oakley. The glasses are manufactured here in the US at Oakley's California facility. In our experience so far these are an excellent choice for eye protection in the sun or on the job. (read more)
(07.21.10) Kestrel® Pocket Weather® Meters partners with Horus Vision® to release a breakthrough ballistics instrument that eliminates the need for a PDA in long-distance shooting.

BOOTHWYN, PA… Nielsen-Kellerman®, manufacturer and distributor of Kestrel Pocket Weather Meters, introduces a new line of the rugged hand-held weather monitoring device equipped with an integrated ballistics calculator, the Kestrel Ballistics WeatherTM Tracker with Horus® ATrag® Software....(more)
(07.19.10) Casio Pathfinder PAG40-5V

I have the initial review up for the Casio Pathfinder PAG40-5V. This watch advertises several features that should be of interest to the precision rifle shooter. It boasts a digital compass, barometer, thermometer and altimeter....(read more)
---
(07.07.10) The Gallery is Online!
I have finally gotten around to organizing and posting pictures to the Gallery. The intent of the Gallery is to display the pics that I don't use in an article or review. I have set it up with the capability for me to upload images while I am out of the office. So I can post while I am at an event. Please check it out. (Gallery)
---
(07.02.10) OTB Desert Lite and Jungle Lite Review

We have just completed the initial review of the OTB Desert Lite and Jungle Lite boots. These are some very well constructed boots with innovative features. They are the first set of boots I have worn that I could actually feel the air circulating around my foot. The black Jungle Lite boots are currently serving as my daily work boots on patrol. The Desert Lite are my choice for range work and competition. After a two mile run in them I am certain that they are my new favorite summer boot. (read more)
---
(06.30.10) Timney Trigger Review
A lovely little package from Brownells showed up in the mail today. It contained a new machined aluminum follower for my duty .308 (the chrome was flaking from the factory stamped piece), but more importantly it held a brand new Timney #510 trigger.
For a couple of weeks I would notice that once in awhile I would get a "heavy pull" on my pre-2006 factory trigger. It was probably only 1lb more than the 3lb setting, but it was enough to force me to take an extra breath before breaking the shot on a precision problem. While it's not enough to cause a safety issue, it is enough to give me a reason to pull it off and have it looked at. Which of course is the perfect reason to try out a Timney Trigger.

The Timney 510 uses a different safety system that the factory 700 trigger. This blocks the actual trigger itself instead of lifting the sear. This should prevent the safety issues that the old 700 trigger seems to be notorious for (although often overstated).
The initial review is up and we will add to it after we get some rounds downrange and some dirt and water in the trigger.... (read more)
---
(06.30.10) ESS Crossbow
We are wrapping up our evaluation of the newest eyewear offering from Eye Safety Systems. The ESS Crossbow is a replaceable lens safety glass system. So far we are extremely pleased in the optical clarity although the anti-fogging does not seem to be able to keep up with the hot/muggy Southern Indiana nights. The Anti-Scratch coating works extremely well and after a couple months of patrol duty only accrued some minor nicks.
---
(06.21.10) Toy, Tool or Trophy?

In a recent thread on one of the well known tactical rifle forums a member asked "how hot is too hot?" He was asking how hot can you allow the rifle barrel to get before you allow it to cool.

I let this sink into my head for a few minutes then let loose with my reply. My position is simply that you allow the rifle barrel to get as hot as it gets while you do what you need to do. If that's a ten round rapid fire string, then so be it. If it's twenty, then fine. If when you are done you can burn your hand on the barrel.....then don't touch the barrel. I went on to state that barrels are disposable, much like tires on a car. If you use your rifle you will replace the barrel. This apparently worried some members.
Let me clarify my position here. We come from different backgrounds and use our rifles differently. In my current line of work I am unlikely to need to fire more than one round in an engagement. Two or three would be an incredible stretch, and if I run through a twenty round box of ammo, the world is coming to an end. However when we train, we don't fire one shot and take a break. We fire numerous shots to simulate a worst case scenario. We may do it against time to create stress. We do it to force the student to run the bolt and reload smoothly. We do what we need to do.

When I compete the stage of fire determines how many rounds I shoot and how fast I do it. Some stages are "barrel heaters". So be it.

When I was in the military and issued a rifle, we used them. They got banged about, heated up, frozen, rained on and drug through mud. We cleaned them and cared for them. It wasn't abuse, it was USE.

In my current life I come in contact with a VAST range of civilian shooters. I run into like minded shooters who use their equipment as hard as it needs to be used, but they care for it. I run into shooters who abuse their rifles through ignorance or intent. I also come across shooters who treat their rifles like a fine sculpture. They place it on display and marvel at the form of the thing. They "ooh and ahhh" over the color, shape or the price tag. They wipe the fingerprints off the steel and they lament nicks in the paint. If they shoot the rifle at all, it's only to confirm the itty-bitty group it's capable of. When they are done, back in the safe it goes.

So what is your rifle? Is it a Toy, a Tool or a Trophy? Regardless of what it is, to be proficient with it requires that you shoot it. If you shoot it, you will eventually wear out the barrel. How quickly depends on how often and how rapidly you shoot. Some of us shoot every week or several times a week. Some shoot once a month. If I put 100 rounds a week through my rifle I am going to burn that barrel up quite a bit faster than someone who shoots 40 rounds once a month. Which shooter do you think will be more proficient?

Use your rifle the way you need to use it to reach your goal. "The Mission drives the Equipment." Not the other way around.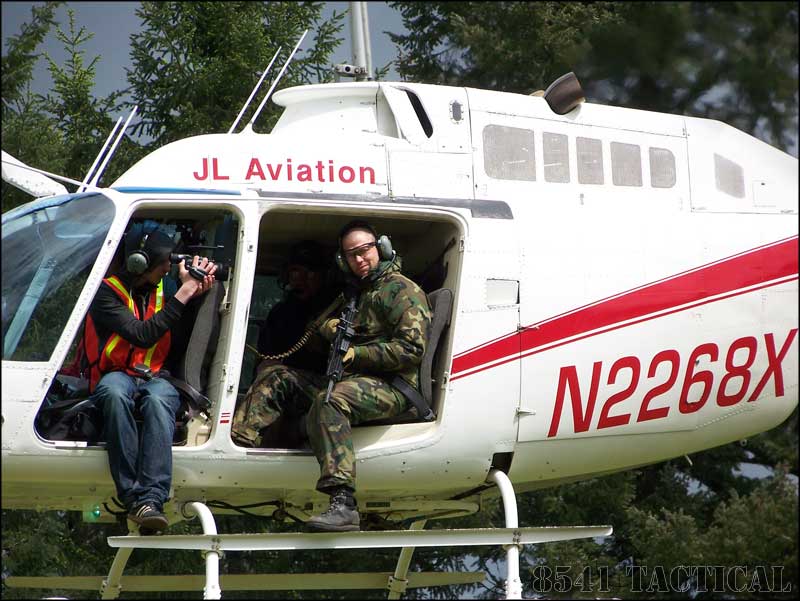 (05.31.10) 2010 Oregon Sniper Challenge
It's over and done. The Oregon Sniper Challenge (5/22-5/23) has come to pass. This year the Challenge exploded from approximately 15 shooters last year to 49 this year. There was some heavy competition and some jockeying for position. First place wasn't secured until the last couple stages. There were over $30K in prizes given away including three rifles. The Helicopter Stage was sponsored by POF USA and was loved by everyone (even those a little nervous about high places). (full Article Soon)
(03.17.10) Barrel Break In Procedure
While you are waiting for the conclusion to our Precision AR10 series, take a look at our barrel break in video.
(03.15.10) Precision AR10 Build Series
The first two parts of our Precision AR10 build are up. We have the Magpul PRS Stock and MOE grip installed on our Eagle Arms (by Armalite) lower Receiver. This lower was purchased as an assembled piece, so we will not be going into how to assemble a lower parts kit. This should not be a problem for anyone who is familiar with assembling AR15's as the process is almost exactly the same. We have a 21" Noveske 7.62mm barrel on the way. The next part in the series will cover the installation of the barrel and a Badger Stabilizer Handguard on the upper receiver. We will then go into checking head space, safety checks, and test firing. Parts Two and Three are now up! (read more)